Covenant
A downloadable game for Windows and macOS
Covenant is a planned action RPG/Strategy mashup set in an alternate history medieval Europe. This page hosts the downloadable proof of concept/prototype demo that I spent the last year and a half developing.

The concept behind Covenant was to combine certain elements from action RPG's and light strategy mechanics, and have them set in an interesting sci-fi take on medieval fantasy. The player character travels through some areas of the game solo in order to liberate and take control of their population and resources. Other areas of the game are then accessible once battles have been won within those territories. Areas of the game will be based on specific real-world locations like Mont Saint Michel and Neuschwanstein Castle for a few examples.
This prototype demo features limited versions of these concepts, and is meant to demonstrate art direction and basic gameplay elements. The game is still under development and if you'd like to contribute to the progress of Covenant, please consider making a small donation when downloading. Other ways you can support Covenant is by visiting my website at http://www.loganchitwoodillustration.com/
I offer commissions for illustrative and concept art, 3D modeling, texture art, and animation. Do you have your own game project or represent a development studio or publisher? Contact me directly at Chitwood_logan@hotmail.com or use the contact page on my site to inquire about work or pricing.
This game is packed in an .RAR file that contains the game, the digital art book, as well as an .STL file of an in-game model that can be used for 3D printing, as shown below.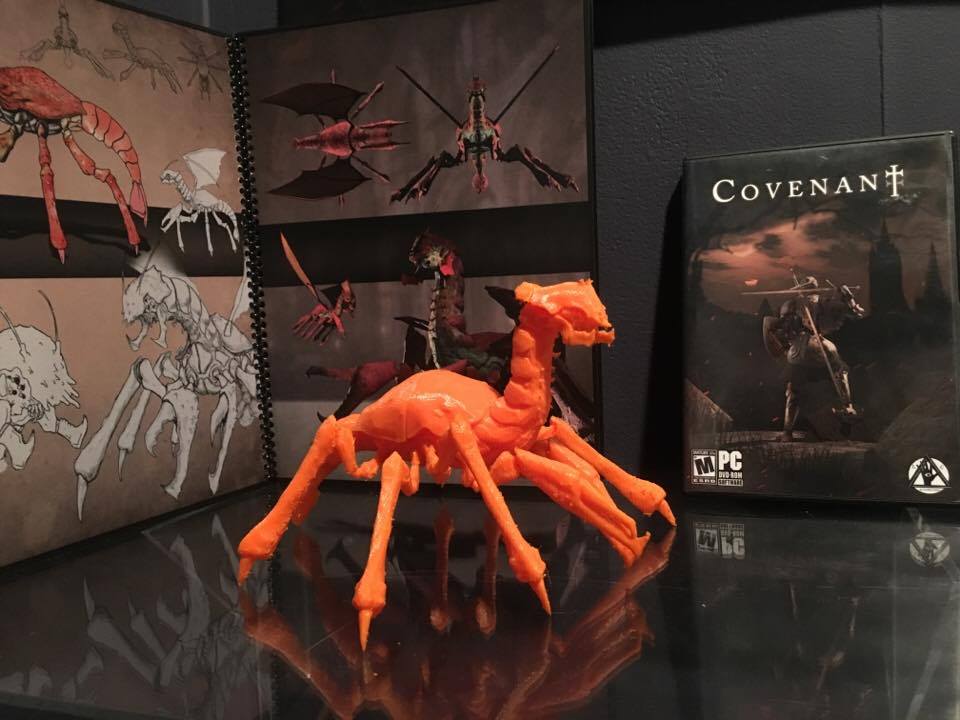 To play Covenant, all you have to do is download the game from this page and unpack the archived file using software like WinRar to its own folder.
The Windows version features full controller support while Mac's controller support is untested. If you experience any major bugs or glitches please notify me via the comments below. The game should run fine on most mid-to-high range machines on medium and high settings, however if you experience persistently low frame rates playing in windowed mode at a lower resolution should help. Loading times on first playthrough may take longer than normal.

Download
Click download now to get access to the following files: